Roshan Melvani, MD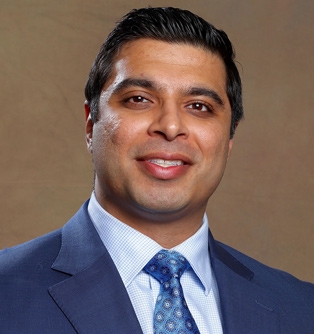 Dr. Roshan Melvani is a dual fellowship-trained orthopedic surgeon in private practice in Victorville, California. He specializes in treatments of the shoulder, elbow, hip, and knee. He completed his shoulder and elbow training under Dr. Mark Frankle and Dr. Mark Mighell. Besides lower extremity arthroplasty, he is specialized in arthroscopic surgery of the shoulder and shoulder reconstruction including rotator cuff repair, shoulder stabilization, total shoulder replacement, reverse shoulder replacement, and revision shoulder arthroplasty. He also provides comprehensive care of conditions of the elbow.
Fellowship: Shoulder and Elbow, Florida Orthopaedic Institute/Foundation for Orthopaedic Research and Education, Tampa, Florida
Fellowship: Adult Reconstruction, Anderson Orthopaedic Clinic/Anderson Orthopaedic Research Institute, Alexandria, Virginia
Residency: Orthopedic Surgery, MedStar Orthopaedics/Union Memorial Hospital, Baltimore, Maryland
Medical Degree: M.D., University of Missouri - Kansas City School of Medicine, Kansas City, Missouri
Please visit www.drmelvani.com to find out more.