Anand Murthi, MD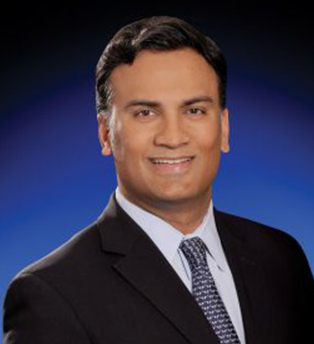 Dr. Anand Murthi is the Chief, Shoulder and Elbow Surgery, at MedStar Union Memorial Hospital, where he also serves as the Director of the Shoulder and Elbow Fellowship and Research. He is a board-certified orthopaedic surgeon, fellowship trained in shoulder and elbow surgery. He is a Professor of Orthopaedic Surgery in the Department of Orthopaedic Surgery, Georgetown University School of Medicine. He also is President of the MedStar Timonium Surgicenter Board of Directors. Previously he served as the Orthopaedic Chief of Service at the University of Maryland Orthopaedic Institute where he oversaw business operations and resident training.
Dr. Murthi received his medical degree from Case Western Reserve University School of Medicine and completed his general surgery internship and orthopaedic surgery residency at George Washington University Medical Center. He completed the internationally recognized fellowship in shoulder and elbow reconstruction at the New York Orthopaedic Hospital-Columbia Presbyterian Medical Center. He is the current section editor for the journal "Current Orthopaedic Practice". He also sits on the editorial board of the Journal of Shoulder and Elbow Surgery and Journal of Shoulder and Elbow Arthroplasty. He has published and presented numerous research papers on a national and international stage. As a teacher he has been involved in teaching physicians around the country surgical techniques in shoulder and elbow surgery. His main focus is as an educator of fellows, residents and medical students. Mentorship is crucial. He is former president and founding member of the Association of Clinical Elbow and Shoulder Surgeons (ACESS) group. He is also an elected and active member of the prestigious American Shoulder and Elbow Surgeons Society (ASES), an international group of shoulder and elbow surgeons dedicated to the mission of teaching and research for which he has chaired the Education and Early Career Development Committees. Recently he was elected to the Neer Circle of ASES. He currently is a co-chairman of the Mid-Atlantic Shoulder and Elbow Society which holds an annual regional scientific meeting.
Dr. Murthi has been involved in the development of numerous implants for clinical care. These include total shoulder and reverse shoulder replacement, pyrocarbon resurfacing humerus, proximal humerus fracture plate, clavicle plating system and others. Currently he is involved in designing for robotic assisted shoulder replacement. He and his colleagues have also designed the first international shoulder data registry (Shoulder JAM by OBERD).
Dr. Murthi specializes in the treatment of: complex shoulder and elbow reconstruction, shoulder and elbow arthritis, shoulder and elbow replacement surgery, shoulder and elbow fractures, rotator cuff pathology, shoulder and elbow instability (dislocations), injuries in the throwing athlete, neurologic diseases of the shoulder, arthroscopic surgery, revision surgery, repetitive motion disorders, frozen shoulder, and sports related shoulder and elbow problems.
He has been honored as one of America's Top Doctors by Castle Connolly.