Ranjan Gupta, MD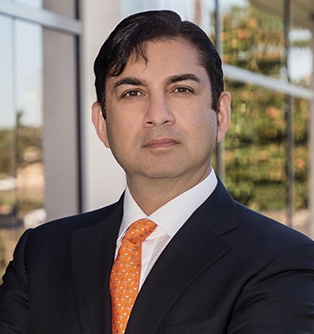 Dr. Gupta is a board certified orthopaedic surgeon with sub-specialty training and expertise in shoulder, elbow, and hand surgery. His practice primarily focuses on shoulder surgery and complex reconstructive surgery. As one of only two active members of the prestigious American Shoulder and Elbow Society practicing in Orange County, he has a particular interest in shoulder replacement and minimally invasive/arthroscopic shoulder surgery. Other areas of focus include treatment of fractures, degenerative conditions, compressive neuropathies, distal radius malunions, and brachial plexus injuries.
Research Interests
Dr. Gupta's research interest includes both clinical and basic science. He has published studies on topics ranging from rotator cuff injuries, shoulder arthroplasty to distal radius fractures. He is internationally recognized as leader in understanding and treating peripheral nerve and brachial plexus injuries and Surgical Simulation to help educate the next generation of surgeons. He is the Principal Investigator for the UC Irvine Peripheral Nerve Research Lab that has been funded with extramural grants for the National Institute of Health since 2000. This lab is focused on understanding nerve regeneration, stem cell function in rotator cuff muscles, and Schwann cell control of neural injury.
Background
Dr. Gupta received his undergraduate degree from Rensselaer Polytechnic Institute, and his medical doctorate degree from Albany Medical College through the Accelerated Six Year Biomedical Program. He completed a general surgery internship, residency in Orthopaedic Surgery, and an NIH Post Doctoral Research Fellowship at the University of Pennsylvania. Subsequently, Dr. Gupta completed fellowship training in hand surgery/microsurgery at the University of California, Los Angeles, followed by an AO Fellowship in hand surgery/traumatology/shoulder at the University of Berne in Switzerland. He served in the role of Department Chairman for the University of California, Irvine from 2006 to the end of 2015. During his tenure as Chairman, the department rose from being ranked #128 by U.S. News & World Report to #40 and became the highest ranked specialty for UC Irvine Health. Since 2015, he has expanded his knowledge and expertise in value based health care and has been the co-chair of OVBC.
Dr. Gupta is Professor of Orthopaedic Surgery, Anatomy & Neurobiology, and Biomedical Engineering. He has a very robust surgical practice- both at the University of California Medical Center in Orange and the Long Beach Veterans Hospital. He enjoys seeing patients with routine orthopaedic problems as well as tackling the most challenging clinical cases.
University of Pennsylvania
NIH Post Doctoral Research Fellowship, University of Pennsylvania
Hand Surgery/Microsurgery, UCLA
Hand Surgery/Traumatology/Shoulder, University of Berne, Switzerland
As a surgeon-scientist, no other orthopaedic surgeon has ever been recognized with all of the following awards:
In recognition of his clinical acumen and surgical skills, he has been selected by his peers as a member of:

Oral Examiner for the American Board of Orthopaedic Surgery (2011, 2014, 2015, 2016, 2017, 2020, 2021, 2022).



Charles S. Neer Award from the American Shoulder and Elbow Surgeons for recognition of his outstanding clinical investigations contributing to the understanding, care and prevention of injuries to the shoulder (2019).

Andrew J. Weiland Medal from the American Society of Surgery of the Hand to honor a surgeon-scientist who has contributed a significant body of research that has advanced the science and practice of hand surgery (2016).
Joseph H. Boyes Research Award from the American Society of Surgery of the Hand (2015).

American-British-Canadian Traveling
Fellowship from the American Orthopaedic Association (2013)

Marshall Urist Young Investigator Award from the Association of Bone & Joint Surgeons (2005)

NIH Career Development Award from the National Institute for Neurologic Disorders & Stroke (2000)
American Board of Orthopaedic Surgery (2001 and recertified through 2031)
Certificate of Added Qualification in Hand Surgery (2002)
Member of American Shoulder and Elbow Surgeons (2006)
Invited Speaker for American Shoulder and Elbow Surgeons (ASES) 2021 Resident Course at the Orthopaedic Learning Center, Rosemont, IL; November 20-21, 2021
Visiting Professor University of Connecticut Department of Orthopaedic Surgery Grand Rounds: "The Lazarus Project- Preservation of the Neuromuscular Junction after Traumatic Nerve Injury to the Shoulder: From Basic science to Brachial Plexus Surgery"; January 13, 2022
Invited Speaker "Surgical Misadventures Around the Shoulder: Understanding and Treating Iatrogenic Nerve Injuries in Shoulder Surgery" at Arab Health: 18th Orthopaedic Conference; Dubai, United Arab Emirates; January 24, 2022.
Invited Speaker "Evolving Management of Proximal Humerus Fractures" at Arab Health: 18th Orthopaedic Conference; Dubai, United Arab Emirates; January 25, 2022.
Invited Speaker "Nerve Injuries and Their Management with Proximal Humerus Fractures" at the American Shoulder and Elbow Surgeons Open Symposium Proximal Humerus Fractures: From Repair to Reverse; Tampa, Florida; February 12, 2022.
Co-Chair of the American Shoulder and Elbow Surgeons Open Symposium Proximal Humerus Fractures: From Repair to Reverse; Tampa, Florida; February 12, 2022.
Invited Speaker as the Leo Leung Visiting Professor to the University of Pennsylvania for 2021-2022 " The Lazarus Project- Preservation of the Neuromuscular Junction after Traumatic Nerve Injury" Grand Rounds and Dissection February 24, 2022.
Invited speaker for AAOS ICL lecture "Long Bone Fractures: Is the solution always a nail?" as a past of ICL Civilian Gunshot Injuries at annual AAOS meeting in Chicago, March 22, 2022.
Invited Speaker Orthopaedic Value Based Health Care Conference "Future of Orthopaedics: Shaping of Surgical Innovation"; April 30, 2022.
Invited Speaker Orthopaedic Value Based Health Care Conference "Osteoarthritis: From Gene Therapy to Tissue Engineering", April 30, 2022.
Invited Speaker. "Partial Radial Nerve to Axillary Nerve Transfer to Improve Shoulder Function" at the Nice-Shoulder-Course; Nice, France; June 10, 2022.
Invited Speaker Orthopaedic Trauma Conference Pushing the Envelope "Proximal Humerus ORIF - Tips, Tricks, and Trade Secrets - How I Get Great Outcomes" Saturday June 25, 2022
Gupta, R; Sher, J; Williams, GR; Iannotti, JP: Non-union of the scapular body – a case report. Journal of Bone and Joint Surgery 80A(3): 428-430, 1998. PMID: 9531212
Gupta, R; Bozentka, DJ; Osterman, AL: Wrist arthroscopy: indications and technique. Journal of the American Academy of Orthopaedic Surgery 9(3): 200-209, 2001. PMID: 11421577
Gupta, R and Lee, TQ. Positional-dependent changes in glenohumeral joint contact pressure and force: Possible biomechanical etiology of posterior glenoid wear. Journal of Shoulder and Elbow Surgery 14(1S): S105-10, 2005; PMID: 15726069
Gupta, R; Rummler, L; Steward, O. Understanding the biology of compressive neuropathies. Clinical Orthopaedics and Related Research 436:251-260, June 2005.
Rasouli, A; Bhatia, N; Souryadevara, S; Cahill, K; Gupta, R. Transplantation of pre-conditioned Schwann cells in peripheral nerve grafts following contusion injury to the adult spinal cord improves recovery in a rat model. Journal of Bone and Joint Surgery 88A(11): 2400-2410, 2006; PMID: 17079397
Shapiro, TA; McGarry, Gupta, R, M; Lee, Y S; Lee, T Q: Biomechanical effects of glenoid retroversion in total shoulder arthroplasty. Journal of Shoulder and Elbow Surgery 16(3): 90S-95S, May/June 2007 [2006 Dec 11Epub ahead of print]; PMID: 17169588
Ecklund, K; Lee, TQ; Tibone, J; Gupta, R: Rotator Cuff Tear Arthropathy: Pathogenesis, Diagnosis, and Treatment. Journal of the American Academy of Orthopaedic Surgery 15(6): 340-349, 2007; PMID: 17548883
Gupta, R; Lee, TQ. Contributions of the Different Rabbit Models to our Understanding of Rotator Cuff Pathology. Journal of Shoulder and Elbow Surgery 16(5): 149S-157S, September/October 2007; PMID: 17903710
Tafti, M; Cramer, S; Gupta, R. Orthopaedic Management of the Upper Extremity in Stroke Patients. Journal of the American Academy of Orthopaedic Surgery 16(8): 462-70. 2008; PMID: 18664635
Seiber K, Gupta R, McGarry MH, Safran MR, Lee TQ. The role of the elbow musculature, forearm rotation, and elbow flexion in elbow stability: An in vitro study. Journal of Shoulder and Elbow Surgery 18(2): 260-8, March-April, 2009 with Epub 2008 Nov 30. PMID: 19046641
Grumet, RC; Hadley, S; Diltz, MV; Lee, TQ; Gupta, R. Development of a Novel Model for Rotator Cuff Pathology: The Rabbit Subscapularis Muscle. Acta Orthopaedica 80(1): 97-103, 2009 Feb; PMID: 19234889
Schamblin, R; Gupta, R; McMaster, W; Lee, TQ: Quantitative Assessment of Glenohumeral Joint Forces in Total ands Bipolar Shoulder Arthroplasties- An In-Vitro Study. Clinical Biomechanics (Bristol, Avon). 24(8): 626-31; 2009 Jun 5. [Epub ahead of print] PMID: 19501938
Hazel, A; Lee, TQ; Gupta, R. Reverse Shoulder Arthroplasty: Indications and Future Directions. Current Orthopaedic Practice 20(4): 355-364, July/August 2009.
Seiber, KS; Savoie, FH; McGarry, MH; Gupta, R; Lee, TQ. Biomechanical evaluation of a new reconstruction technique of the ulnar collateral ligament in the elbow with modified bone tunnel placement and interference screw fixation. Clinical Biomechanics (Bristol, Avon) 25(1): 37-42; Jan 2010. [Epub 2009 Oct 16] PMID: 19837496
11. Gupta R; Bathen, ME; Smith, JS; Levi, AD; Bhatia, NN; Steward, O. Advances in the management of spinal cord injury. Journal of the American Academy of Orthopaedic Surgery 18(4): 210-222; April, 2010. PMID: 20357230.
Smith, JS; Landers, R; Pham, T; Bhatia, N; Steward, O; Gupta, R. Role of early surgical decompression of the intradural space after cervical spinal cord injury in an animal model. Journal of Bone and Joint Surgery 92(5):1206-1214; May, 2010. PMID: 20439667.
Rowshan, K; Hadley, S; Caiozzo, VJ; Lee, TQ; Gupta, R. Development of fatty atrophy after neurologic and rotator cuff injuries in an animal model of rotator cuff pathology. Journal of Bone and Joint Surgery 92(13): 2270-8; October, 2010. PMID: 20926720
Kang, J; Zamorano, DP; Gupta, R. Challenges of Limb Salvage with Major Nerve Injuries: Current Management and Future Directions. Journal of American Academy of Orthopaedic Surgeons 19: S28-S34, 2011.
Kang, J and Gupta, R. Mechanisms of Fatty Degeneration in Massive Rotator Cuff Tears. Journal of Shoulder and Elbow Surgery 21(2): 175-180; February, 2012. PMID: 22244060
Nguyen, ML; Jun, BJ; Quigley, RJ; McGarry, MH; Galle, S; Burkhart, SS; Gupta, R; Lee, TQ. Margin Convergence Anchorage to Bone for Reconstruction of the Anterior Attachment of the Rotator Cable. Arthroscopy: The Journal of Arthroscopic and Related Surgery 28(9): 1237-45. Epub 2012 May 17; September, 2012. PMID: 22608293
11. Quigley RJ, Gupta A, Oh JH, Chung KC, McGarry MH, Gupta R, Tibone JE, Lee TQ. Biomechanical Comparison of Single-Row, Double-Row, and Transosseous-Equivalent Repair Techniques after Healing in an Animal Rotator Cuff Tear Model. Journal of Orthopaedic Research 31(8): 1254-60; 2013 Aug. PMID: 23572388
Ghert, M; Della Rocca, GJ; Gupta, R; Provencher, M; Wolf, B; Wolf, JM; Yee, A. The 2013 American-British-Canadian Traveling Fellowship: Innovation, Accountability, and Insight. Journal of Bone & Joint Surgery 96A (8): 703-704, April 16, 2014. PMID: 24740674
Jung, J; Hahn, P; Choi, B; Mozaffar, T; Gupta, R. Early but not Late Surgical Decompression Restores Neurovascular Blood Flow and Ischemic Parameters in an In-vivo Animal model of Chronic Nerve Compression Injury. Journal of Bone & Joint Surgery 96A (11): 897-906, June 4, 2014. PMID: 24897737
Campbell ST, Ecklund KJ, Chu EH, McGarry MH, Gupta R, Lee TQ. The role of pectoralis major and latissimus dorsi muscles in a biomechanical model of massive rotator cuff tear. Journal of Shoulder and Elbow Surgery 23(8): 1136-42; August, 2014. PMID: 24560467
McGarry MH, Nguyen ML, Quigley RJ, Hanypsiak B, Gupta R, Lee TQ. The effect of long and short head biceps loading on glenohumeral joint rotational range of motion and humeral head position. Knee Surgery Sports Traumatology Arthroscopy 2014 Sep 26. [Epub ahead of print] PMID: 25257680
Lopez, GD; Wright, R; Martin, D; Jung, J; Bracey, D; Gupta, R. A Cost-effective Junior Resident Training and Assessment Simulator for Orthopaedic Surgical Skills via Fundamentals of Orthopaedic Surgery (AAOS Exhibit Selection). Journal of Bone and Joint Surgery American 97(8): 659-66; 2015 Apr 15. PMID: 25878310
Lopez, G; Martin, D; Wright, R; Jung, J; Hahn, P; Jain, N; Bracey, D; Gupta, R. Construct Validity for a Cost-Effective Arthroscopic Surgery Simulator for Resident Education. Journal of American Academy of Orthopaedic Surgeons 24(12): 886-894, December, 2016. PMID: 27832043
Gupta, R. Think Again About That Block: Commentary on an article by Surena Namdari, MD, MSc, et al.: "Randomized Controlled Trial of Interscalene Block Compared with Injectable Liposomal Bupivacaine in Shoulder Arthroplasty". Journal of Bone and Joint Surgery 99A(7): 619, April 5, 2017. PMID: 28375899
Zhu D, Tapadia MD, Palispis W, Luu M, Wang W, Gupta R. Attenuation of Robust Glial Scar Formation Facilitates Functional Recovery in Animal Models of Chronic Nerve Compression Injury. Journal of Bone and Joint Surgery Am. 99(24): 2119/e132; Dec 20, 2017. PMID: 29257018
Ficke JR, Moroski NM, Ross SD, Gupta R. Integrative Medicine as an Adjunct to Orthopaedic Surgery. Journal of the American Academy of Orthopaedic Surgery 26(2): 58-65, January 15, 2018. doi: 10.5435/JAAOS-D-16-00134. PMID: 29239871
Zamorano DP, Lim PK, Haghverdian BA, Gupta R. Perioperative Management of the Orthopaedic Patient and Alcohol Use, Abuse, and Withdrawal. Journal of the American Academy of Orthopaedic Surgery 27(6):e249-e257, March 15, 2019. doi: 10.5435/JAAOS-D-17-00708. PMID: 30499892
Modrak, M; Sundem, L; Gupta, R; Zusick, MJ; Elfar, J. Pharmacological Attenuation of Electrical Effects in a Model of Compression Neuropathy. Journal of Bone and Joint Surgery Am. 101(6): 523-530, March 20, 2019. PMID: 30893233
Gupta, R; Patel, NA; Mazzocca, AD; Romeo, A. Understanding and Treating Iatrogenic Nerve Injuries in Shoulder Surgery. Journal of the American Academy of Orthopaedic. 2020 Mar 1; 28(5):e185-e192. doi: 10.5435/JAAOS-D-18-00608. PMID: 31567728
Shafiq, B; Hacquebord, J; Wright, DJ; Gupta, R. Modern Principles in the Acute Surgical Management of Open Distal Tibia Fractures. Journal of the American Academy of Orthopaedic Surgery. 2021 Jun 1;29(11):e536-e547. PMID: 33788807
For more information please visit www.ranjanguptamd.com